I Had Surgery
It's been a long spring and summer. I had foot surgery on April 25th to replace my tibial tendon and correct my flat foot (yes, there's still one more foot to fix!) The surgery was on my right foot, and needed (and still needs) a lot of elevation time to keep the swelling down. This has put a big crimp on how muchI was able to sew this spring and early summer.
Life Throws Curveballs Sometimes
While my foot is getting back to "normal", life has thrown another curve ball at me in the midst of all this. Next week, I begin a journey with my mom, who will be going through radiation and chemo for cervical cancer over the next six weeks or so. Please keep her in your thoughts as she goes through this.
I Am Working
I
'm extremely thankful to have lots of work on hand at the moment, making more projects for Melanie Testa.
Working on Melly's pieces, means I can't really share what I have recently been working on, but have no fear! I'm sure I will soon have yummy photos of other projects to share with you here.
I Am A Bad Ass Quilter!
I have exciting news as well! I was notified that I was accepted to be part of the Bad Ass Quilter's Society's Spool Stitch Corps! I can't even tell you how excited I am to finally have a "real" part in the Bad Ass family! It will also be nice to still have "work" to do during this time.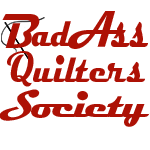 Get Your Lady Bits Checked Out
On a side note here, I just want to preach a little to make sure you go and get into your gyno's on a regular basis for pap smears! No one likes doing it, but do it anyways! Please! It's a small thing to do, that can save your life. Make sure your daugherts, sisters, mothers, friends, cousins, EVERY woman you know is getting theirs done consistently!